A Preliminary Observation Study to Evaluate Safety and Efficacy of Boheco Ease in Myalgia
Jain Harshad

Ayurvedic Medical Practitioner, Bombay Hemp Company Pvt. Ltd., Mumbai, Maharashtra, India

Patel Neeraj Kumar

Head of Research & Development, Bombay Hemp Company Pvt. Ltd., Mumbai, Maharashtra, India

Jamas Jahan Peston

Chief Strategy Officer, Bombay Hemp Company Pvt. Ltd., Mumbai, Maharashtra, India
Keywords:
Cannabis, Vijaya, CBD, THC, Ease oil, Shulahara
Abstract
One of the most frequent concerns at emergency departments and clinics across the nation is muscle soreness and fatigue. Oftentimes, severe pain and fatigue subside on their own or seem to do so in response to several medications and therapeutic methods. Excitation-contraction coupling in the muscle, and actin-myosin filament interactions, decreased function can lead to failure of voluntary muscle contraction. The two most powerful Phyto-cannabinoids found in the Cannabis sativa plant are CBD (cannabidiol) and delta-9-tetrahydrocannabinol (THC). CBD was effectively delivered trans dermally for anti-inflammatory activity in various animals. Cannabis sativa or Vijaya has Shulahara property as per Ayurveda. Muscle pain and Swelling are caused by a rise in the Ruksha and Sheeta qualities of the Vata dosha and accumulation of Kleda. Cannabis sativa, also known as Vijaya, has Ushna properties that have the power to reduce Vata dosha. It has Pachak property which helps to mitigate Kleda. Oil tends to decrease Rukshata due to Vata dosha. As a result, reducing pain and inflammation which also lessens discomfort and irritation. Methods: A preliminary survey on 30 patients was conducted and data was collected. Results: More than 90% of patients had reduced symptoms of pain and inflammation in muscles, post-application twice a day with a lasting effect of more than 3 hours. It helps in reducing Kleda present in muscles. Conclusions: Ease oil was having a better result in patients having myalgia. It was safe on use for long term.
Downloads
Download data is not yet available.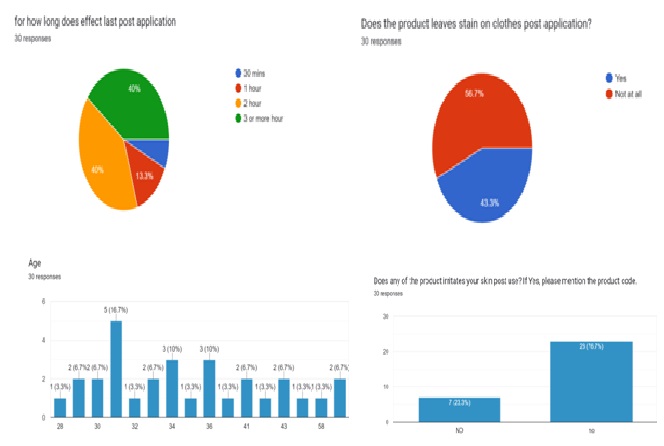 How to Cite
Jain Harshad, Patel Neeraj Kumar, & Jamas Jahan Peston. (2023). A Preliminary Observation Study to Evaluate Safety and Efficacy of Boheco Ease in Myalgia. International Journal of Ayurveda and Pharma Research, 11(4), 56-59. https://doi.org/10.47070/ijapr.v11i4.2740
Copyright (c) 2023 International Journal of Ayurveda and Pharma Research
This work is licensed under a Creative Commons Attribution-NonCommercial-ShareAlike 4.0 International License.