A Preliminary Observation Study to Evaluate Safety and Efficacy of Boheco Glide in Osteoarthritis
Jain Harshad

Ayurvedic Medical Practitioner, Bombay Hemp Company Pvt. Ltd., Mumbai, Maharashtra, India

Patel Neeraj Kumar

Head of Research & Development, Bombay Hemp Company Pvt. Ltd., Mumbai, Maharashtra, India

Jamas Jahan Peston

Chief Strategy Officer, Bombay Hemp Company Pvt. Ltd., Mumbai, Maharashtra, India
Keywords:
Cannabis, Vijaya, CBD, THC, Glide oil, Shulahara
Abstract
The most prevalent form of arthritis, both in established and emerging nations, is osteoarthritis. A persistent, progressive musculoskeletal disease, it causes stiffness, discomfort, and mobility impairment because of the bones rubbing against one another in the joints. With a frequency of 22% to 39% in India, it is the most prevalent form of joint illness. The two most powerful phyto-cannabinoids found in the Cannabis sativa plant are CBD (cannabidiol) and delta-9-tetrahydrocannabinol (THC). Cannabis sativa or Vijaya has Shulahara property as per Ayurveda. Cannabis sativa, also known as Vijaya, has Ushna properties that have the power to reduce Vata dosha. Shleshaka Kapha, which is found in the articular membrane of joints, is reduced because of excessive Vata dosha. Oil has a propensity to make synovial fluid, also known as Shleshaka kapha, more abundant in joints. As a result, reducing friction in joints also lessens discomfort and irritation. Method: A preliminary survey on 30 patients was conducted and data was collected. Results: More than 80% of patients had reduced symptoms of pain and inflammation in joints, post-application twice a day with a lasting effect of more than 3 hours. It helps in replenishing Shleshaka kapha present in joints. Conclusion: Glide oil was having a better result in patients having moderate to severe pain in joints.
Downloads
Download data is not yet available.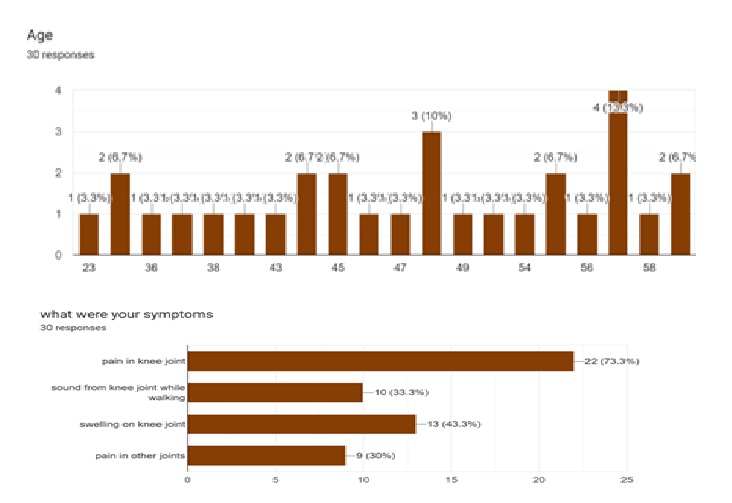 How to Cite
Jain Harshad, Patel Neeraj Kumar, & Jamas Jahan Peston. (2023). A Preliminary Observation Study to Evaluate Safety and Efficacy of Boheco Glide in Osteoarthritis. International Journal of Ayurveda and Pharma Research, 11(Suppl2), 15-21. https://doi.org/10.47070/ijapr.v11iSuppl2.2739
Copyright (c) 2023 International Journal of Ayurveda and Pharma Research
This work is licensed under a Creative Commons Attribution-NonCommercial-ShareAlike 4.0 International License.