Antibacterial Efficacy of E. Jambolana (Syzygium Cumini) Seeds Extracts against Periodontal Pathogens: an In-Vitro Study
Aniruddha Das

Public Health Dentist, Dentvalley Dental Clinic, Siliguri, Darjeeling, West Bengal

Yavagal PC

Professor, Department of Public Health Dentistry, Bapuji Dental College and Hospital, Davanagere, Karnataka, India.

Divya Reddy

Intern, Bapuji Dental College and Hospital, Davanagere, Karnataka, India.

https://orcid.org/
Keywords:
Syzygium cumini, P gingivalis, F nucleatum, A actinomycetem-comitans
Abstract
Background: Periodontal disease is progressive, inflammation of dento-gingival complex caused by specific periodontal pathogens. Objective: To evaluate the minimum inhibitory concentration and zone of inhibition of E. Jambolana (S.cumini) seed extract (aqueous, ethanol and acetone extracts) against P.Gingivalis, F.Nucleatum and A. Actinomycetemcomitans by tube dilution and disc diffusion tests. Methods: Aqueous, ethanol and acetone extract of E. Jambolana seeds were prepared. Blood agar media with Hemin, Vitamin K and Kanamycin was used to culture P gingivalis. Crystal violet Erythromycin Blood Agar and Thioglycolate broth with 1% horse serum were used to culture F. nucleatum and A. actinomycetemcomitans respectively. The antibacterial activity of extracts was evaluated by using the disc diffusion method and the Minimum Inhibitory Concentration (MIC) of the test solutions was determined by Tube dilution method. Results: E. Jambolana seed extracts exhibited antibacterial effect against all three tested periodontal pathogens. Acetone extract of E. Jambolana exhibited more potent activity than the aqueous and ethanol extracts. Minimum Inhibitory concentration of E. Jambolana seed extract against P. gingivalis, was found to be 6.25µl/ml (acetone), against F. nucleatum it was 25µl/ml (acetone) and against A. actinomycetemcomitans it was 12.5µl/ml (acetone). Conclusion: Syzygium cumini seeds extracts exhibited antibacterial property against P. gingivalis, A. actinomycetemcomitans and F. nucleatum.
Downloads
Download data is not yet available.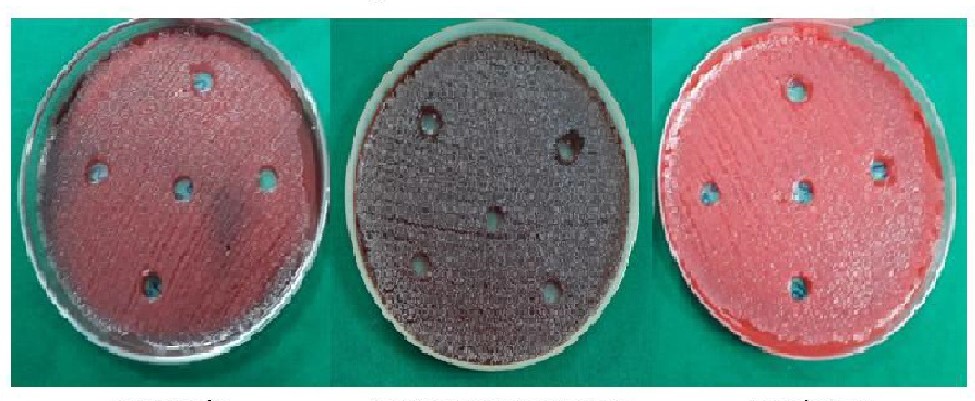 How to Cite
Aniruddha Das, Yavagal PC, & Divya Reddy. (2021). Antibacterial Efficacy of E. Jambolana (Syzygium Cumini) Seeds Extracts against Periodontal Pathogens: an In-Vitro Study. International Journal of Ayurveda and Pharma Research, 9(10), 16-20. https://doi.org/10.47070/ijapr.v9i10.2051
Copyright (c) 2021 International Journal of Ayurveda and Pharma Research
This work is licensed under a Creative Commons Attribution-NonCommercial-ShareAlike 4.0 International License.