Effective Management of Hypothyroidism by Using Ayurvedic Interventions: A Case Report
Bhawna Walia

Manish Grover

Ajeet Pratap Singh

Shuddhi Ayurveda, Jeena Sikho Lifecare Pvt. Ltd. Zirakpur, Punjab, India
Keywords:
Hypothyroidism, Kapha, Avatu, Granthi Shoth
Abstract
Hypothyroidism is an endocrine disorder that mainly occurs due to insufficient thyroid gland stimulation or primary gland failure by the pituitary or hypothalamus gland. Symptoms of hypothyroidism include fatigue, gastric trouble, face puffiness with edematous eyelids, retarded nail growth, weight gain, hoarseness of voice, decreased libido, pallor, dry skin, dry hair, alopecia, constipation, abnormal menstrual cycle, muscle cramps, myalgia etc. A 30-year-old married Hindu, non-alcoholic, non-smoking male patient visited OPD of Shuddhi Ayurveda Clinic, Jeena Sikho Lifecare Pvt. Ltd. Noida on 18 November 2020 with known case of subclinical hypothyroidism. On the basis of clinical diagnosis and laboratory investigations, ayurvedic medicines having action on thyroid gland and digestion improvement were prescribed for over a period of six months. After this ayurvedic medicinal treatment for four months i.e. from November 2020 to February 2021, significant results were noted in terms of reduction in level of increased TSH. TSH level was significantly reduced from 181µIU/ml to 0.11 µIU/ml within two months of ayurvedic treatment. Then, there was a mild increase in the TSH level when patient was tested for TFT after four months i.e. on 21st of June 2021, investigated level of TSH was 5.59 µIU/ml. Overall, a satisfactory result was observed in patient clinical conditions proving significant efficacy of ayurvedic treatment.
Downloads
Download data is not yet available.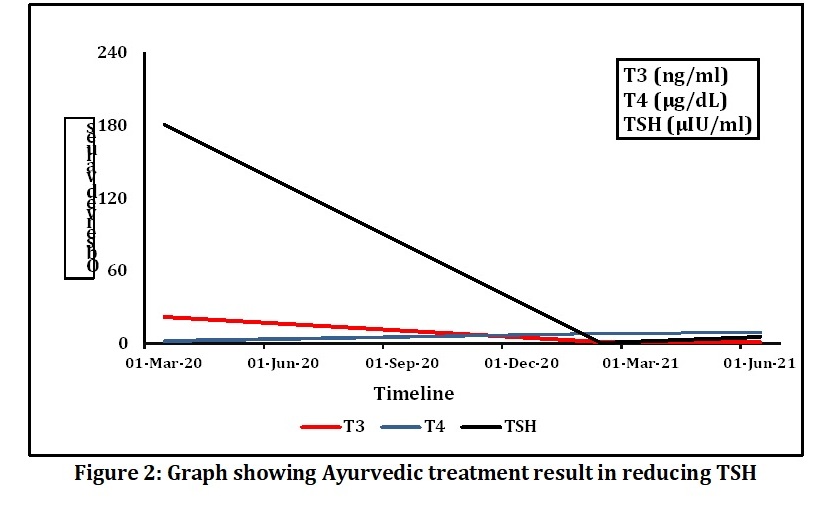 How to Cite
Bhawna Walia, Manish Grover, & Ajeet Pratap Singh. (2021). Effective Management of Hypothyroidism by Using Ayurvedic Interventions: A Case Report. International Journal of Ayurveda and Pharma Research, 9(8), 40-45. https://doi.org/10.47070/ijapr.v9i8.1976
Copyright (c) 2021 International Journal of Ayurveda and Pharma Research
This work is licensed under a Creative Commons Attribution-NonCommercial-ShareAlike 4.0 International License.