Methodological Study of Doshopakramaniya Adhyay of Ashtanga Hridaya
Dhara Patel

Associate Professor, Department of Samhita & Siddhanta, Sumandeep Ayurved Medical College, Sumandeep Vidyapeetha deemed to be University, Vaghodia, Vadodara, Gujrat.
Keywords:
Ashtanga Hridaya, Doshopakramaniya, Sutrasthan
Abstract
Ashtanga Hridaya is one of the Brihat Trayi of Ayurveda. Sutrashana of Ashtanga Hridaya is stated as best among all the Samhita. Sutrasthan is a string which is connected with other Sthanas of Samhita. It provides brief idea about fundamental concepts which are described detail in other Sthanas. Secret majors are described in Sutrasthana of Ashtanga Hridaya. So study of Sutrasthana is most important to understand Samhita. Acharya Vagbhata stated that he created Ashtanga Hridaya from the essence of all previous treatises. The name of chapter Doshopakramaniya suggests it is related to treatment of vitiated Doshas. Doshas are most important entity for Normal functioning of body. Normal condition of Dhatu and Mala and Agni is depends on Dosha. All these functions they do in proper way when they are in balance condition. So it is most necessary to maintain the balance condition of Doshas. Acharya Vagbhatta also mentioned Doshas are only cause for all diseases. Imbalance state of Dosha is considered as a disease. Vitiated Doshas also vitiates Dhatu and Mala. Hence treatment of vitiated Doshas should be first priority of physician. All the Samhitas have described the way to cure the imbalance condition of Doshas. But these concepts are in scattered manner. So Acharya Vagbhata has created one whole chapter for the treatment of Doshas. In this chapter he has described the way to cure the Doshas in very elaborative manner along with some miscellaneous concepts. Hence this chapter has been selected for study to understand the treatment principles of vitiated Doshas and by this way we can stop the chain of disease formation.
Downloads
Download data is not yet available.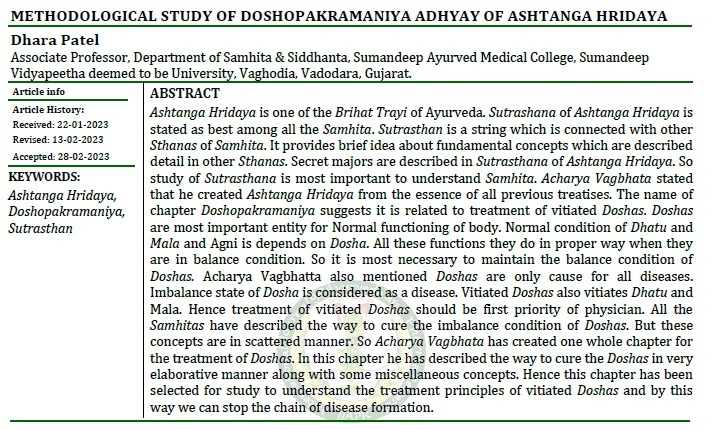 How to Cite
Dhara Patel. (2023). Methodological Study of Doshopakramaniya Adhyay of Ashtanga Hridaya. International Journal of Ayurveda and Pharma Research, 11(2), 98-101. https://doi.org/10.47070/ijapr.v11i2.2704
Copyright (c) 2023 International Journal of Ayurveda and Pharma Research
This work is licensed under a Creative Commons Attribution-NonCommercial-ShareAlike 4.0 International License.