A Conceptual Study on Buddhi, Dhee, Dhriti, Smriti, Smritikaaranas and Medha in Comparison to Jean Piaget's Cognitive Development Factors
Ashigha S

MD Scholar, Dept of Kaumarabhritya, SDMCA, Udupi, Karnataka, India

Prathviraj Puranik

Professor & HOD, Dept of Kaumarabhritya, SDMCA, Udupi, Karnataka, India

Kavya

Assistant Professor, Dept of Kaumarabhritya, SDMCA, Udupi, Karnataka, India
Keywords:
Buddhi, Medha, Cognition, Schema, Assimilation, Accommodation
Abstract
Building intricate scenarios and sharing these ideas with others, A full-fledged language capacity, as well as reasoning and planning skills are among the many cognitive abilities that distinguish man from other living beings. One of the tools of cognition and perception used to establish the precise qualities of an object according to Ayurveda is Buddhi (intellect). Perception occurs when the Indriyas (cognitive organs) perceives their objects along with Manas (mind), which subsequently analyze and forwards those to Buddhi producing knowledge. Dhee, Dhriti, Smriti are the components of Buddhi which aids for this and Medha is a type of intellect having the power to retain this knowledge. As per modern, cognition is the mental action or process that involves thought experiences, and the senses to acquire knowledge and understanding. The cognitive development is established through schema, assimilation, accommodation and equilibrium according to Jean Piaget's Cognitive Development Theory. Buddhi, Dhee, Dhriti, Smriti, Smritikaarana, Medha can be correlated to these factors. Although the components of cognitive development theory were articulated for a developing kid, Ayurveda views these concepts as that which may be implied at any stage of life. One has to pass through each of these stages to achieve cognition. Hence, the present conceptual study thus focus on interpreting these Ayurvedic observations on the basis of modern theory of cognitive development and its factors.
Downloads
Download data is not yet available.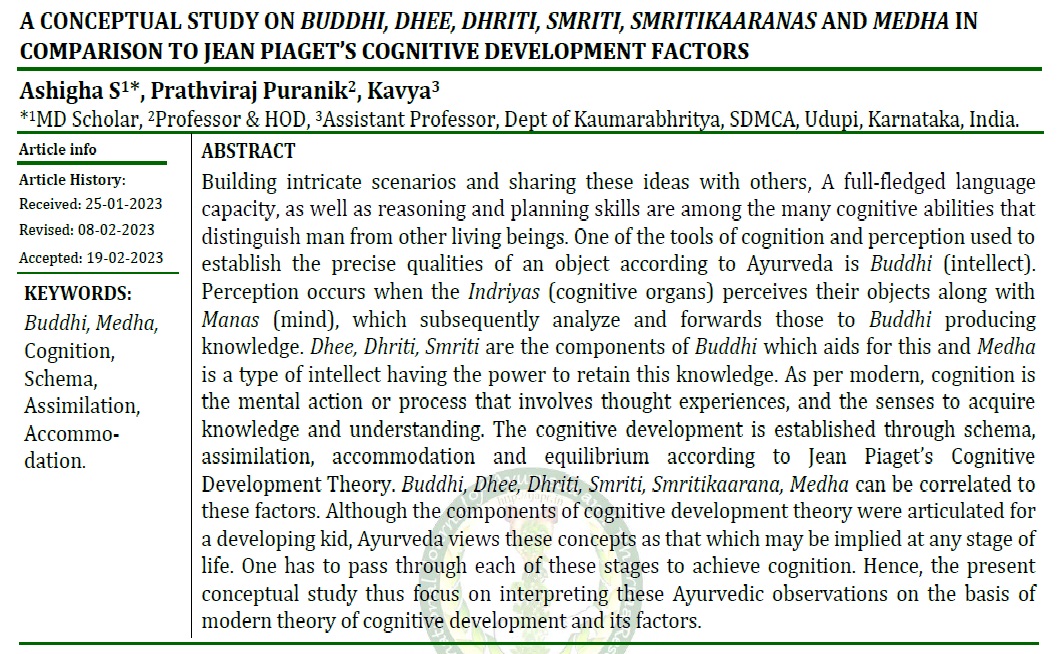 How to Cite
Ashigha S, Prathviraj Puranik, & Kavya. (2023). A Conceptual Study on Buddhi, Dhee, Dhriti, Smriti, Smritikaaranas and Medha in Comparison to Jean Piaget's Cognitive Development Factors. International Journal of Ayurveda and Pharma Research, 11(Suppl1), 66-69. https://doi.org/10.47070/ijapr.v11iSuppl1.2681
Copyright (c) 2023 International Journal of Ayurveda and Pharma Research
This work is licensed under a Creative Commons Attribution-NonCommercial-ShareAlike 4.0 International License.