An Analytical Review on Health Benefits of Prenatal Yoga for Mother and Foetus
Kalpana Patni

Assistant Professor, Department of Kaumarbhritya, Faculty of Ayurveda, Institute of Medical Sciences, BHU, Varanasi, India

Gaurav Sinha

Consultant/Assistant Professor, Department of Panchkarma, Goel Ayurvedic Medical College and Hospital, Lucknow, UP, India
Keywords:
Pregnancy, Yoga, Prenatal, Pranayama, Asanas, Exercises
Abstract
Pregnancy is a physiological condition in which would be mother changes both from inside as well as outside. Yoga in pregnancy can help the women to balance through these physical, mental and emotional challenges. Embracing yoga during pregnancy provides multi dimensional benefits to mother and baby. Yoga calms the mind, revitalizes the energy and prepares the woman physically and mentally for delivery. Various respiratory exercises (Pranayama) and physical postures (Asanas), performed by a pregnant woman under expert supervision, can help in harmonized relaxation and contraction of uterus, increase the strength, flexibility and endurance of muscles needed for childbirth,. They devour low energy and afford greater benefits. Also Yoga-sasanas can minimizes the complication of pregnancy, like pregnancy induced hypertension, intrauterine growth retardation and pre-term delivery.  Yoga calms the mind, re-energies and prepares the mother physiologically, mentally and emotionally and for labour. Yoga is also helpful in improving sleep pattern, reduces lower back pain, nausea, headaches and shortness of breath. Simple stretching exercises encourage circulation, help fluid retention, and relieve stress. Yogic exercises can help pregnant women recover faster post-delivery. Different type of postures, mentioned in Ayurvedic and Yogic texts that can be comfortably performed in pregnancy. They consume lower energy and give better benefits. Yoga is useful for a variety of immunological, behavioral and psychosomatic conditions. Various research studies regarding the utility of yoga interventions for pregnancy shows that it is helpful in improving pregnancy and birth outcomes. Numerous clinical studies shows that yoga may produce improvements in stress levels, quality of life, aspects of interpersonal relating, autonomic nervous system functioning, and labour parameters such as comfort, pain, and duration.
Downloads
Download data is not yet available.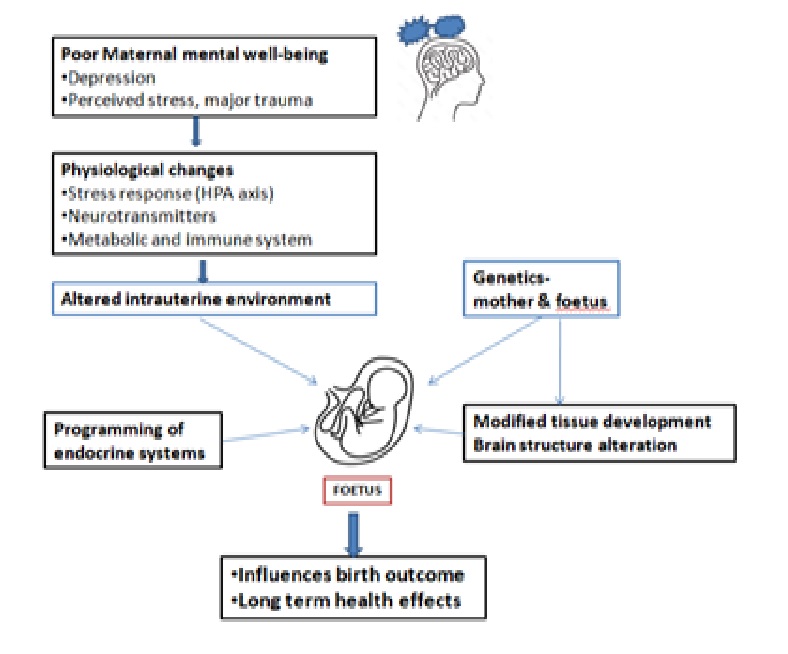 How to Cite
Kalpana Patni, & Gaurav Sinha. (2023). An Analytical Review on Health Benefits of Prenatal Yoga for Mother and Foetus. International Journal of Ayurveda and Pharma Research, 11(Suppl1), 46-52. https://doi.org/10.47070/ijapr.v11iSuppl1.2667
Copyright (c) 2023 International Journal of Ayurveda and Pharma Research
This work is licensed under a Creative Commons Attribution-NonCommercial-ShareAlike 4.0 International License.