Receptor Activator of NF-kB Ligand Induced Osteoclastogenesis in Cervical Spondylosis - Role of Balamula Ghritam (A Powerful Antioxidant Drug) as Uttarabhaktika Sneha
S. Ranjani

PG Scholar, Department of Kayachikithsa, Sri Jayendra Saraswathi Ayurveda College and Hospital, Chennai, Tamilnadu, India

Pradeep Kumar Moharana

Professor, Department of Kayachikithsa, Sri Jayendra Saraswathi Ayurveda College and Hospital, Chennai, Tamilnadu, India

S. Swaminathan

Professor, HOD, Department of Samskrt Samhita Siddhant, Sri Jayendra Saraswathi Ayurveda College and Hospital, Chennai, Tamilnadu, India
Keywords:
Cervical spondylosis, Oxidative stress, RANKL activation, Disc dehydration, Balamula, Antioxidant
Abstract
The discs which are located in between the vertebras to act as shock absorbers during jolts to prevent spine injuries get either dislocated, bulged out or get thinned on continuous pressure being exerted upon them either by travel or a posture that is unsuitable to their alignment. In cases of discs getting thinned out and the height of these discs get reduced due to various causes produce undue pressure over the cervical spine resulting in oxidative stress and production of free radicals in the body causing deterioration of bone tissue and bone mass leading to regulation of RANKL/OPG ratio levels causing degeneration of bone. It is possible to resurrect the dehydrated discs with rehydration using Balamula (Sida cordifolia root) with the help of its properties and actions that it can positively act upon the area by refilling the gaps of erosions and assure a recovery with the proper administration of it in the form of ghee which has been processed with it and its intake being after food. Material & Methods: Various Ayurvedic classical textbooks and published journal articles were reviewed and analysed. Results: Evidences from various studies show that the phytochemicals obtain from Balamula (Sida cordifolia root) and Go- Ghritam (cow's ghee) acts as antioxidant, reduces the activity of osteoclast and bone resorption by inhibiting RANKL receptor pathway. It also has anti-inflammatory, anti-arthritic, anti-analgesic effect that found to be effective in reducing the symptoms of cervical spondylosis.
Downloads
Download data is not yet available.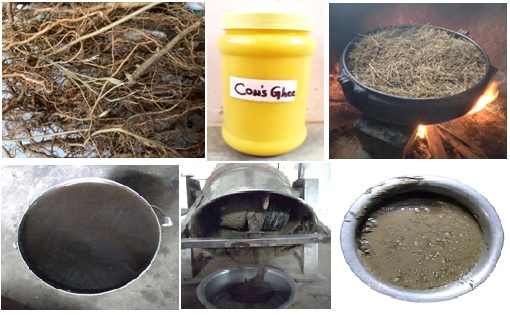 How to Cite
S. Ranjani, Pradeep Kumar Moharana, & S. Swaminathan. (2022). Receptor Activator of NF-kB Ligand Induced Osteoclastogenesis in Cervical Spondylosis - Role of Balamula Ghritam (A Powerful Antioxidant Drug) as Uttarabhaktika Sneha. International Journal of Ayurveda and Pharma Research, 10(11), 1-15. https://doi.org/10.47070/ijapr.v10i11.2604
Copyright (c) 2022 International Journal of Ayurveda and Pharma Research
This work is licensed under a Creative Commons Attribution-NonCommercial-ShareAlike 4.0 International License.