Pharmaceutico-Analytical Study of Vishatinduka Taila
Vanitha V

PG Scholar, Department of Rasashastra and Bhaishajya Kalpana, Sri Jayendra Saraswathi Ayurveda College and Hospital, Chennai – Bangalore Highway, Nazarathpet, Chennai, Tamilnadu, India

B. Saravanan

Associate Professor, Department of Rasashastra and Bhaishajya Kalpana, Sri Jayendra Saraswathi Ayurveda College and Hospital, Chennai – Bangalore Highway, Nazarathpet, Chennai, Tamilnadu, India

K.L. Virupaksha Gupta

HOD & Professor, Department of Rasashastra and Bhaishajya Kalpana, Sri Jayendra Saraswathi Ayurveda College and Hospital, Chennai – Bangalore Highway, Nazarathpet, Chennai, Tamilnadu, India
Keywords:
Analytical study, Kupilu, Pharmaceutical study, Vishatinduka Taila.
Abstract
Vishatinduka Tailam is mentioned in context of Vataroga nidhanalakshana chikitshaadhyana of Basavarajiyam text for the treatment of Sarvangasandhiasthigatavata, Amlavata, Sula, Anulomanavayu, Sthambha, Dhanurvata, Kaphajavikaras, severe painful condition of the body, etc., It is prepared with ingredients like Vishatinduka, Jambira, Aranala, Tilataila and Erandataila. It is an attempt made to validate the pharmaceutical and analytical parameters of Vishatinduka taila. Three batches of Vishatindukataila were prepared. Pharmaceutical study of batches and its standardization was done. It took five days for preparation of each batch due to presence of Aranala. Intermittent cooling was done. At the end of Taila preparation, mustard brown coloured oil was obtained and strong odour present. All Sneha siddhi lakhanas were observed and the loss was approximately 10% in all the three batches of Taila. To establish standards of Vishatinduka Taila, physicochemical and chromatographical methods were performed. The results found are acid value 12.344mg/KOH/g, peroxide value 5Meq/kg, Density 0.932g/cm3, Specific gravity 0.932, pH 4.5+/_0.3, Loss on drying 0%, Refractive index 73.5+/_0.2% brix, saponification value 112.22mg KOH/1g and Total fatty matter 95.4%. Physicochemical test was done in first and second month also results obtained. In HPTLC evaluation variable number of spots are visualized. It showed the presence of four phytoconstituents.
Downloads
Download data is not yet available.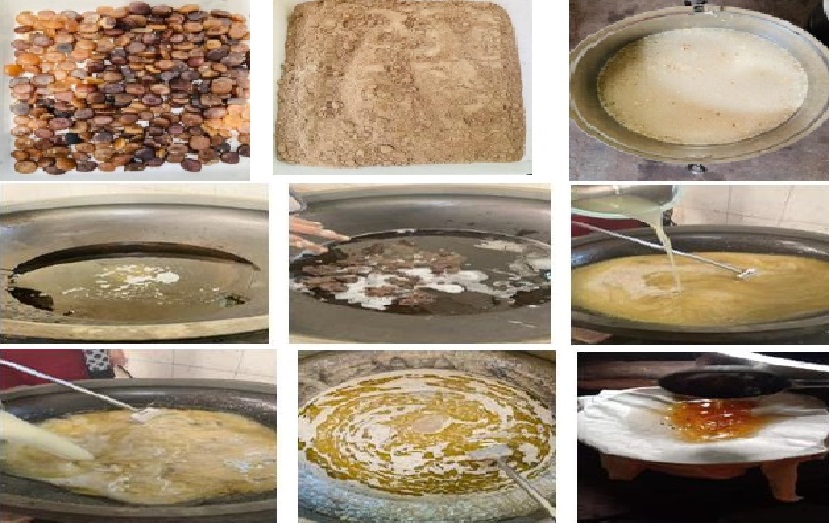 How to Cite
Vanitha V, B. Saravanan, & K.L. Virupaksha Gupta. (2022). Pharmaceutico-Analytical Study of Vishatinduka Taila. International Journal of Ayurveda and Pharma Research, 10(10), 7-15. https://doi.org/10.47070/ijapr.v10i10.2518
Copyright (c) 2022 International Journal of Ayurveda and Pharma Research
This work is licensed under a Creative Commons Attribution-NonCommercial-ShareAlike 4.0 International License.