Ayurvedic Management of Emesis Gravidarum - A Case Report
Shahina Mole S

Professor, Department of Prasoothi Tantra and Stree roga, Govt. Ayurveda college, Thiruvananthapuram, Kerala, India

Deepa C R

PG Scholar, Department of Prasoothi Tantra and Stree roga, Govt. Ayurveda college, Thiruvananthapuram, Kerala, India
Keywords:
Emesis gravidarum, Malarinji modaka.
Abstract
Emesis is a common experience in first trimester of pregnancy affecting 70 to 80% of all pregnant women. Altered immunological endocrinological and psychological states are responsible for initiation of symptoms. Mild to moderate emesis gravidarum have a significant adverse effect on quality of women's life. Even though onset is physiological its morbidity has to be reduced to minimize disease burden, enhance maternal health and to prevent hyper emesis gravidarum. Anti-emetic and anti-histamines are used in conventional Allopathic practice. Ayurvedic principle is early intervention and prevention of hyperemesis gravidarum with lifestyle modifications and adopting Pathya ahara. This is a case report of emesis gravidarum managed with pharmaco nutrient product –Malarinji modaka
Downloads
Download data is not yet available.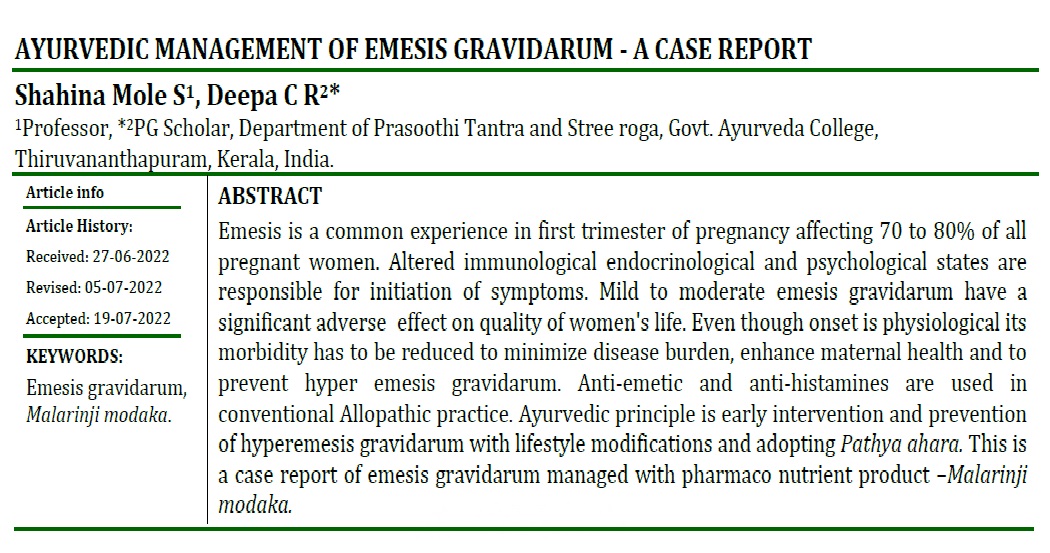 How to Cite
Shahina Mole S, & Deepa C R. (2022). Ayurvedic Management of Emesis Gravidarum - A Case Report. International Journal of Ayurveda and Pharma Research, 10(Suppl1), 21-23. https://doi.org/10.47070/ijapr.v10iSuppl1.2500
Copyright (c) 2022 International Journal of Ayurveda and Pharma Research
This work is licensed under a Creative Commons Attribution-NonCommercial-ShareAlike 4.0 International License.