A Siddha Literature Review on Parallel Analysis of Netriculai Vatam with Frontal Sinusitis
P Parvathy

Research Associate, Siddha Regional Research Institute, Thiruvananthapuram, India
Keywords:
Netṟicūlaivatam, Sinusitis, Siddha, Head ache, Traditional medicine
Abstract
The poetic medical philosophies of Siddha were presented in palm scripts cannot be easily interpreted by common man. According to this system, the disease classification is based on the concepts of Tridosha pathology (Vatham, Pitham and Kabham). The Siddha concept of tri-humoural theory seems poles apart from those of the International Classification of Diseases (ICD) when viewed afar. This review article is an attempt to correlate clinically, the symptoms of "Netṟicūlaivatam", a disease given in the Siddha text Yūki vaittiya cintāmaṇi - 800 with that of the common ailment Sinusitis mentioned in contemporary science. Through meticulous interpretation and parallel analysis of the condition it can be concluded that the signs and symptoms of 'Netṟicūlaivatam' can be correlated well with that of Sinusitis. This parallel analysis would further pave way for better perceptive, diagnosis and management of the disease 'Netṟicūlaivatam' as mentioned in Siddha literature
Downloads
Download data is not yet available.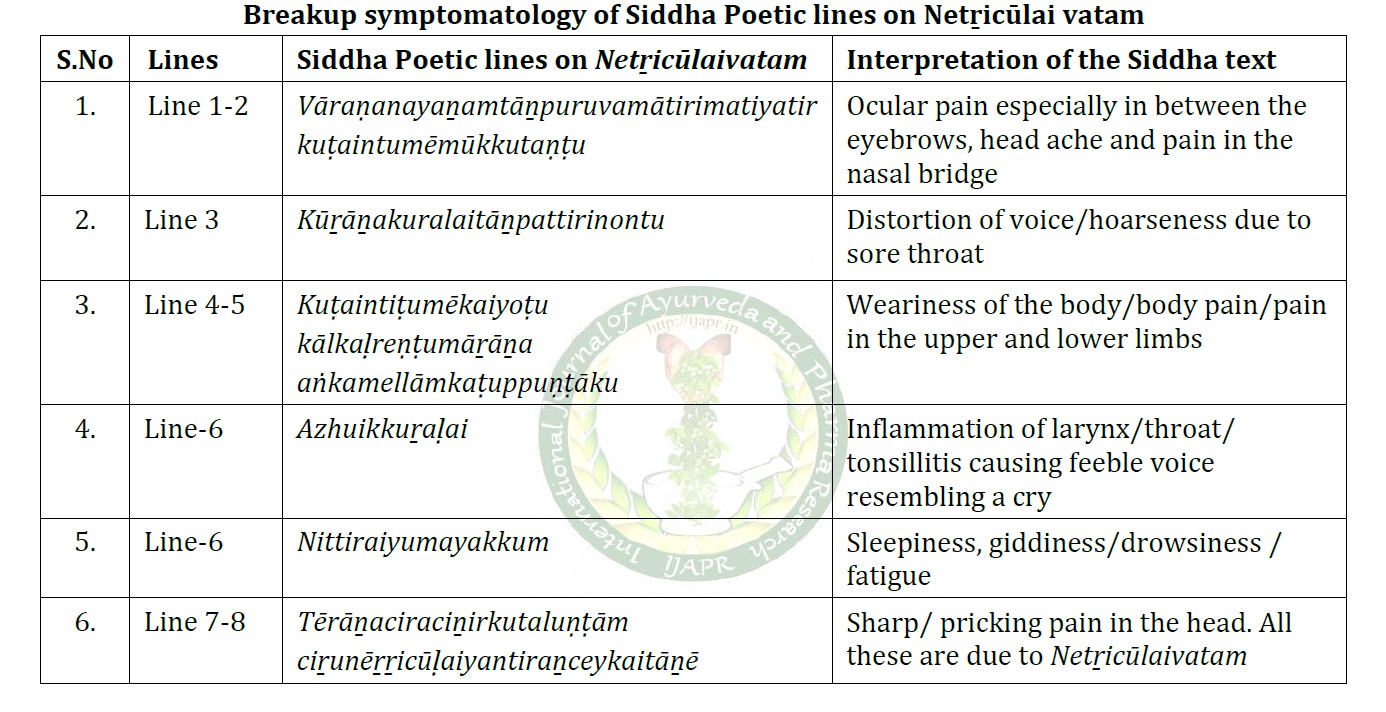 How to Cite
P Parvathy. (2022). A Siddha Literature Review on Parallel Analysis of Netriculai Vatam with Frontal Sinusitis. International Journal of Ayurveda and Pharma Research, 10(6), 100-104. https://doi.org/10.47070/ijapr.v10i6.2403
Copyright (c) 2022 International Journal of Ayurveda and Pharma Research
This work is licensed under a Creative Commons Attribution-NonCommercial-ShareAlike 4.0 International License.