Different Therapeutic Angles of Commonly used Swarna Kalpa
Limaye Gargi Sanjay

MD Scholar, Department of Kayachikitsa, College of Ayurved and Research Centre, Akurdi, Pune, Maharashtra, India

Joshi Medha Mahesh

Head of the Department, Department of Kayachikitsa, College of Ayurved and Research Centre, Akurdi, Pune, Maharashtra, India

Bansal Rajat Rajender

MD Scholar, Department of Kayachikitsa, College of Ayurved and Research Centre, Akurdi, Pune, Maharashtra, India
Keywords:
Swarna Kalpa , Therapeutic uses, Health, Herbomineral compounds, Gold, Ayurveda
Abstract
Ayurveda being the science of life, primarily focuses on enhancing health of healthy individuals and removal of disease causing entities in a diseased person. Swarna (gold) has substantial therapeutic value, which has been indicated in different classics of Ayurveda. Swarna (gold) is desired by every human for many centuries. The desire is not only for its ornamental or commercial value but also because of its great medicinal value by which it increases strength and immunity. Swarna is converted into suitable dosage forms like Parpati, Pottali, Vati etc. Swarna kalpas are the unique blend of herbomineral formulations where Gold is used as one of the main ingredient. Swarna kalpas are widely used as therapeutic as well as life saving agents (in some emergencies). These formulations are helpful in treating many chronic disease conditions but it also acts miraculous when used for Rasayana purpose. In this review most commonly used Swarna kalpas such as Yogendra ras, Rasraj Ras, Vasant Kusumakar ras, Swarna malini vasant are discussed on the basis of different therapeutic angles
Downloads
Download data is not yet available.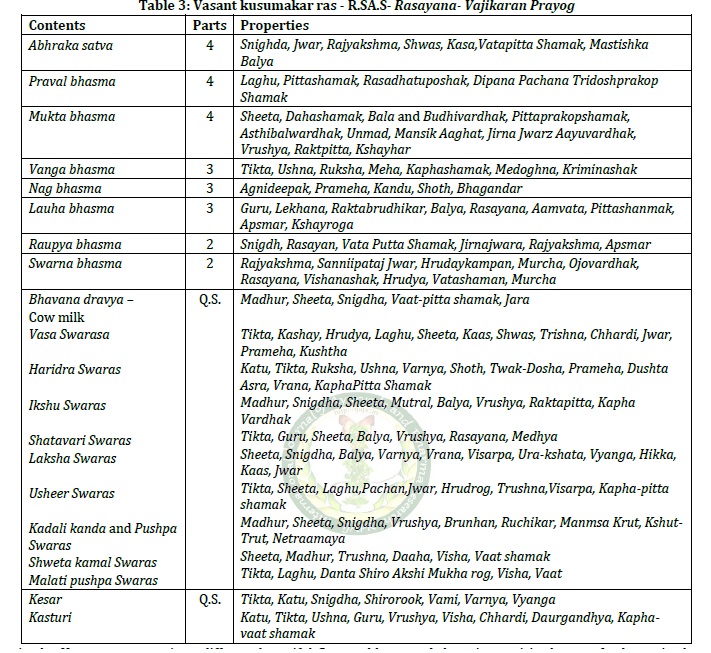 How to Cite
Limaye Gargi Sanjay, Joshi Medha Mahesh, & Bansal Rajat Rajender. (2022). Different Therapeutic Angles of Commonly used Swarna Kalpa. International Journal of Ayurveda and Pharma Research, 10(6), 90-95. https://doi.org/10.47070/ijapr.v10i6.2397
Copyright (c) 2022 International Journal of Ayurveda and Pharma Research
This work is licensed under a Creative Commons Attribution-NonCommercial-ShareAlike 4.0 International License.