Til Tail (Sesamum Indicum): A Hidden Cause Behind Tamaka Shwasa (Bronchial Asthma): A Literary Review
Mohammad Aamir

MD Scholar, Department of Kayachikitsa, Govt Ayurved College, Patna, Bihar, India

Amber

MD Scholar, Department of Kayachikitsa, Govt Ayurved College, Patna, Bihar, India

Ajay Kumar

MD Scholar, Department of Dravyaguna, Govt Ayurved College, Patna, Bihar, India

Sujeet Kumar

Assistant Professor, Department of Kayachikitsa, Govt Ayurved College, Patna, Bihar, India
Keywords:
Til tail, Sesamum indicum, Bronchial asthma, Tamaka shwasa, Food allergen, Hypersensitivity.
Abstract
Respiratory problems are very common due to the devastating pollution, irritants and infections. Asthma is one of the chronic inflammatory respiratory illnesses throughout the world and is characterized by breathlessness, chest tightness, wheeze and coughing. It occurs as a result of hypersensitivity reaction mainly due to allergens. These allergies mostly can be from the food. Like other allergies, sesame allergy is quite common yet unknown but it's prevalence has been continuously increasing in recent years. A lot of modern researches proved Sesame as a food allergen causing airway inflammation and IgE mediated airway hyper responsiveness and finally causes asthma. In Ayurveda, asthma is well correlated as Tamaka shwasa. In classical texts of Ayurveda like Charaka Samhita and Sushrut Samhita similar etiological factors are described for Shwasa roga, in addition to that dietary factors (Aharaj Nidan) are also mentioned such as Nishpava, Masha, Til tail, Pinyak, Pishti, Aam ksheer etc. which vitiates the Doshas and finally causes Tamaka shwasa. This review article mainly focuses the role of Til tail (Sesamum indicum) in the etiopathogenesis of Tamaka shwasa and also, for better understanding of textual facts and may be used as an effective key to control the mortality and morbidity related to it.
Downloads
Download data is not yet available.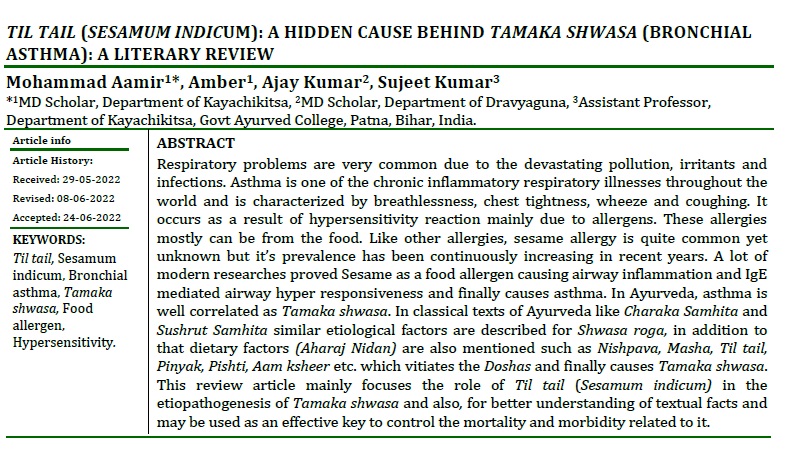 How to Cite
Mohammad Aamir, Amber, Ajay Kumar, & Sujeet Kumar. (2022). Til Tail (Sesamum Indicum): A Hidden Cause Behind Tamaka Shwasa (Bronchial Asthma): A Literary Review. International Journal of Ayurveda and Pharma Research, 10(6), 68-71. https://doi.org/10.47070/ijapr.v10i6.2370
Copyright (c) 2022 International Journal of Ayurveda and Pharma Research
This work is licensed under a Creative Commons Attribution-NonCommercial-ShareAlike 4.0 International License.