Conceptual Study of Anupana and Aahara w.s.r. Bruhatrayi: A Review
Ramteke Pranita

PG Scholar, Rasashastra and Bhaishajya Kalpana Department, R.A.Podar (Ayu) College, Worli, Mumbai, India.

Gaonkar Gayatri

PhD Scholar, Dept. of Ayurved, Tilak Maharashtra Vidyapeeth, Pune.
Keywords:
Ayurveda, Anupana, Aahara, Bruhatrayi
Abstract
Ayurveda is the science of life which deals with every aspect of life. It emphasizes on maintaining the health of an individual and has unique approach to cure the diseases. Anupana is one such principle which forms an important part of Ayurvedic therapeutics as well as lifestyle. Anupana is a liquid which is taken along with or after medicine. Anupana also helps in better digestion and absorption of food and provides complete nourishment. Different kinds of Anupana are stated in Samhita according to Aahara (food) and Aushadhi (Medicine). In Ayurvedic Samhita there are Chikitsa siddhants like Shodhana, Shamana, pathya Kalpana, Aushadhi sevan kala, and Anuapana. In modern science of medicine Anupana is called as adjuvant/vehicle therapy. It is a carrier through which action like bioavaibility, drug delivery, drug absorptions takes place. Anupana helps in fast spread and absorption of drug in the body as well enhances rapid drug action. Thus it is known as Yogavahi which means bioenhancer. Information related to Anupana and its description, importance and utility is found scattered in the Ayurvedic literature. From the brief above we can see the importance of Anupana however its practical implication and usage is not applied and recognized yet to a large extent.
Hence this present article aims at providing information about concept of Anupana as described in Bruhatrayi which are the most important texts of Ayurveda
Downloads
Download data is not yet available.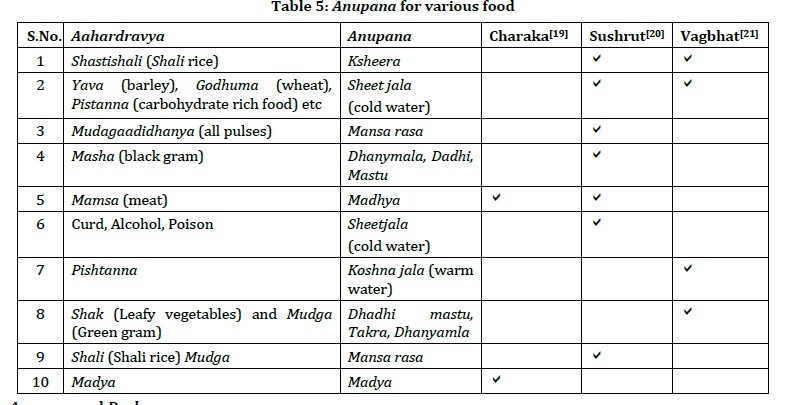 How to Cite
Ramteke Pranita, & Gaonkar Gayatri. (2022). Conceptual Study of Anupana and Aahara w.s.r. Bruhatrayi: A Review. International Journal of Ayurveda and Pharma Research, 9(12), 34-40. https://doi.org/10.47070/ijapr.v9i12.2214
Copyright (c) 2022 International Journal of Ayurveda and Pharma Research
This work is licensed under a Creative Commons Attribution-NonCommercial-ShareAlike 4.0 International License.