Antibacterial Efficacy of Mouth Rinsing With 0.4% Syzygium Cumini Leaf Extract Against Streptococcus Mutans: A Randomized Controlled Trial
Aniruddha Das

Public Health Dentist, Dentvalley Dental Clinic, Siliguri, Darjeeling, West Bengal.

Puja C Yavagal

Professor, Department of Public Health Dentistry, Bapuji Dental College and Hospital, Davanagere, Karnataka.

http://orcid.org/0000-0002-6507-1868
Keywords:
Syzygium cumini, Streptococcus mutans, mouthwash, Antibacterial.
Abstract
Syzygium cumini leaf extract possess a range of pharmacological properties such as anti-diabetic, anti-inflammatory, antiulcerogenic, cardioprotective, antidiarrheal, antimicrobial, antioxidant and hepatoprotective activities. Objective of the study was to evaluate and compare the antibacterial efficacy of 0.4% Syzygium cumini leaf extract and 0.2% chlorhexidine containing mouthwashes on salivary Streptococcus mutans among children aged 7-8 years in a hospital setting. Methods: Twenty-four school children aged 7-8 years, fulfilling the eligibility criteria, were randomized into two groups. Group 1: received 0.4% S. cumini leaf extract mouth wash and Group 2: received 0.2% chlorhexidine mouth wash. Saliva samples of the children were collected before and one hour after mouth rinsing with 10 ml of interventional mouthwash, for S. mutans count analysis. Results: The results of the study showed that there was significant reduction in salivary S. mutans counts in both the groups post mouth rinsing with interventional solutions (p=0.002). However, intergroup comparison reveled that in Chlorhexidine group there was significantly more reduction in Salivary S mutans counts compared to Syzygium cumini mouth rinsing group. (p=0.03) Conclusion: There was reduction in salivary S mutans counts after mouth rinsing with Syzygium cumini leaf extract. Hence, Syzygium cumini leaf extract mouthwash could be an effective aid for prevention and control of dental caries since it is safe, culturally acceptable and feasible.
Downloads
Download data is not yet available.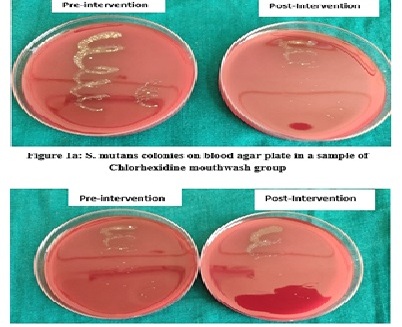 How to Cite
Aniruddha Das, & Puja C Yavagal. (2021). Antibacterial Efficacy of Mouth Rinsing With 0.4% Syzygium Cumini Leaf Extract Against Streptococcus Mutans: A Randomized Controlled Trial. International Journal of Ayurveda and Pharma Research, 9(11), 15-18. https://doi.org/10.47070/ijapr.v9i11.2154
Copyright (c) 2021 International Journal of Ayurveda and Pharma Research
This work is licensed under a Creative Commons Attribution-NonCommercial-ShareAlike 4.0 International License.