Ayurvedic Management of Menorrhagia with Lodhra Shunthi Yog- A Case Study
Ashwini Karache S

PG Scholar 3rd Year, Department of Prasuti Tantra and Stree Roga. Y.M.T. Ayurvedic Medical College, Kharghar, Maharashtra, India

Seema Mehere

Professor & Head of the Department of Prasuti Tantra and Stree Roga. Y.M.T. Ayurvedic Medical College, Kharghar, Maharashtra, India
Keywords:
Strirogvyadhies, Raktapradar, Menorrhagia, Lodhra Shunthi Yog, Asrigdara
Abstract
Detail description of Strirogvyadhies and various changes that occur during all stages of women life such as Puberty, reproductive age, menopause, diseases that occur during these stages and most important treatment mentioned in oldest system of health science i.e., Ayurveda. Raktapradar in Ayurveda is characterized by excessive or prolonged menstruation with or without inter-menstrual bleeding, which is one of the most common bleeding disorders in women. Excessive bleeding from uterus either at the time of menses or in inter-menstrual time is considered as Asrigdara or Raktapradar in Ayurveda. 28% of women's population considered that menstruation excessive and plan their social activities around the menstrual cycle. 10% of women employees need to take off from the work because of excessive menstrual bleeding. About 6% of women, aged between 25 to 45 years consult their general practioners about excessive bleeding. Once referred to gynecologist, possible causative bleeding disorders are not routinely investigated and risk of surgical interventions is high. Ayurveda provides many alternatives which not only cures disease but also prevents their recurrences. Ayurveda gives so many formulations to overcome to Raktapradar one such formulation selected here i.e., Lodhra Shunthi Yog. By considering above mentioned facts and in this case study, an attempt is made to evaluate potency of Lodhra Shunthi Yog (in Churna form) for management of Raktapradar.
Downloads
Download data is not yet available.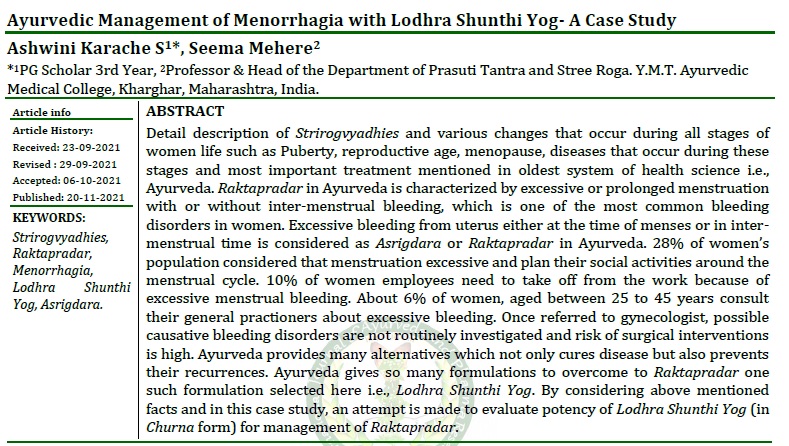 How to Cite
Ashwini Karache S, & Seema Mehere. (2021). Ayurvedic Management of Menorrhagia with Lodhra Shunthi Yog- A Case Study . International Journal of Ayurveda and Pharma Research, 9(10), 69-72. https://doi.org/10.47070/ijapr.v9i10.2136
Copyright (c) 2021 International Journal of Ayurveda and Pharma Research
This work is licensed under a Creative Commons Attribution-NonCommercial-ShareAlike 4.0 International License.