Role of Naturopathic Diet in Prenatal Period
Malathi Syamala

Senior Medical Officer, Nature cure Hospital, Director i/c, Ameerpet, Begumpet, Hyderabad.

Alugu Varshini

Secretary, Telangana Yogadhyana Parishad (TSYP), Hyderabad, Telanagana.

Santoshi Lakshmi

Assistant Professor, Dept. of Food & Nutrition, OUCW, Hyderabad, Telangana.
Keywords:
Vedic science, Satvik diet, Upanishads, prenatal period, postnatal.
Abstract
A healthy pregnancy is necessary to ensure the baby's well being after birth too. As per Vedic science the mother is the creator of child's future. This can be accomplished by adapting a Satvik diet during prenatal period. This approach helps her to builds a healthy future for her child. Yogis and ancient sages of India believed that Satvik food which means clean, pure and ethically energetic will maintain the equilibrium of a healthy mind and body. The origin of this diet has its roots in Indian ancient books like Upanishads, Bhagavatgida etc. The Ayurvedic texts also have insights regarding the diet for prenatal period which would help the woman to have healthy baby and safe post natal health. As per the ancient texts during the prenatal period the food should be simple, juicy and tasty. Foods which are stale, sour, bitter, fried salted and non-vegetarian origin those foods which have addiction should be avoided.
Downloads
Download data is not yet available.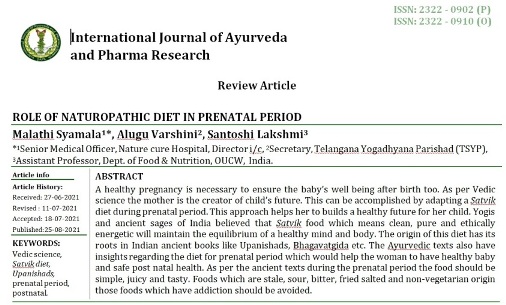 How to Cite
Malathi Syamala, Alugu Varshini, & Santoshi Lakshmi. (2021). Role of Naturopathic Diet in Prenatal Period . International Journal of Ayurveda and Pharma Research, 9(7), 71-73. https://doi.org/10.47070/ijapr.v9i7.2004
Copyright (c) 2021 International Journal of Ayurveda and Pharma Research
This work is licensed under a Creative Commons Attribution-NonCommercial-ShareAlike 4.0 International License.