Role of Samshodhan in the Management of Uterine Fibroid: A Case Report
Kaushik Pooja

P.G. Scholar, P.G. Dept. of Panchkarma, Rajiv Gandhi Govt. Post Graduate Ayurvedic College and Hospital, Paprola, Dist. Kangra, Himachal Pradesh, India.

Bhardwaj Anil

Reader, P.G. Dept. of Panchkarma, Rajiv Gandhi Govt. Post Graduate Ayurvedic College and Hospital, Paprola, Dist. Kangra, Himachal Pradesh, India.

Kapil Soni

Reader, P.G. Dept. of Prasuti Tantra & StreeRoga, Rajiv Gandhi Govt. Post Graduate Ayurvedic College Paprola, Dist. Kangra, Himachal Pradesh, India
Keywords:
Deepan, Garbhashyagata granthi, Maamsaj granthi (benign muscular growth), Paachan, Samshodhan, Uterine fibroid.
Abstract
Uterine fibroids also known as Leiomyomas are the non-cancerous growths of the uterus. Uterine fibroids are one of the leading concerns for women in childbearing age. The prevalence is maximum between 35 to 45 years of age. Uterine fibroids may be symptomatic and may be asymptomatic sometimes. One in every five women of reproductive age suffers from uterine fibroid. Uterine fibroids can be a single growth or multiple growths. The exact cause for Leiomyomas is unknown, however a family history, being overweight, disturbed hormonal levels and sedentary lifestyle are some of the risk factors. Hormonal therapies, hysterectomy or myomectomy through surgical removal are the treatment options of uterine fibroids in modern practice. But these fibroids can re-grow, so these surgical methods are not the permanent cure for uterine fibroids. So now women are seeking for non-invasive, painless and permanent treatment methods. This is where an integrated approach is required. A case of Garbhashyagranthi (Uterine Fibroid) associated with Asrigdhara (Menorrhagia) was managed by Samshodhan (Bio-purification methods). USG of the lower abdomen was the main diagnostic and assessment tool along with BMI (Body Mass Index) in this case study. Within a month, number of fibroids reduced from 4 to 3 and menorrhagia was completely cured. Samshodhan chikitsa (Bio-purification treatment) was found to be very effective treatment option for prevention as well as management of uterine fibroid.
Downloads
Download data is not yet available.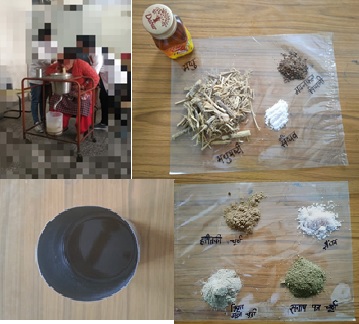 How to Cite
Kaushik Pooja, Bhardwaj Anil, & Kapil Soni. (2021). Role of Samshodhan in the Management of Uterine Fibroid: A Case Report. International Journal of Ayurveda and Pharma Research, 9(10), 62-68. https://doi.org/10.47070/ijapr.v9i10.1989
Copyright (c) 2021 International Journal of Ayurveda and Pharma Research
This work is licensed under a Creative Commons Attribution-NonCommercial-ShareAlike 4.0 International License.